Regular price
Sale price
$11.00 USD
Unit price
per
Sale
Sold out
[MORE STOCK ARRIVING NEXT WEEK]
This four port USB type A hub (with additional Micro-B power input port) is the perfect companion for your MiSTer FPGA for connecting multiple USB devices. 
It also works with our USB internal PC case adapter cables so you can easily access multiple PC case USB ports off one hub.  And if you need even more USB ports, it can be daisy chained with other USB hubs.
In most scenarios this hub will function with multiple connected devices (bluetooth, gamepads, external drives) and will not need additional external power input.  
We have successfully used this hub without any external power and with four connected USB gamepads, an optical mouse, RGB keyboard and active Bluetooth dongle, including three devices off a second daisy chained passive USB hub (with the DE10-Nano powered by just a 5V 3A supply).
A CAVEAT BEFORE CONNECTING ADDITIONAL EXTERNAL POWER
If you find your USB devices require additional power and you would like to connect external power to the hub then you must either;
a) ensure only one power source is used to power both the DE10-Nano and the hub (ie splitting power from a single source)
or,
b) physically cut the VCC wire inside the hub so external hub power can not enter the DE10-Nano.
Check out our blog post with more detail on these steps here.

OTHER THINGS TO NOTE
There is a slide switch on one edge which is intended to alternate between charging modes if this hub were in use with Windows or Android tablets, however this can be left on "1", the standard OTG mode, when used with a DE10-Nano.
Share
View full details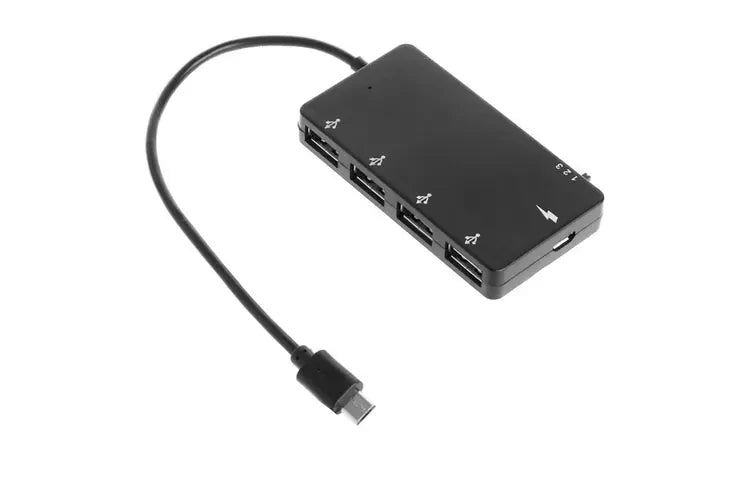 Upgrade your MiSTer
The new must-have accessory for every MiSTer enthusiast!